Fancy getting away and want some bookish spots to visit? Pop on your wishlist some of these awesome literary-inspired places to stay from around the world.

*All photographs from accommodation websites.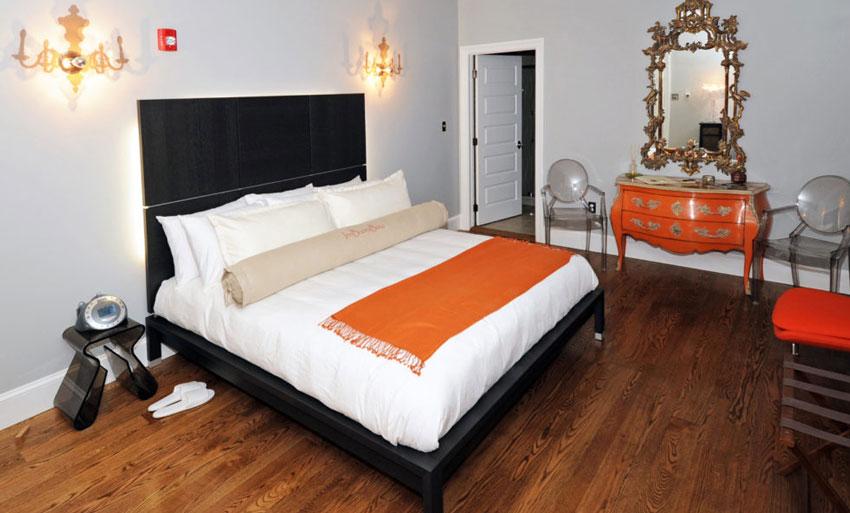 Inn BoonsBoro, Maryland, USA
Despite a devastating fire that set back restoration plans for a historic hotel, romance author Nora Roberts continued her plans to open this bed-and-breakfast. Its guestrooms are named for literary couples such as Jane and Rochester from Charlotte Bronte's Jane Eyre and Titania and Oberon from William Shakespeare's A Midsummer Night's Dream.
The decor of each room is inspired by the era in which the story is set and there is also a copy of the particular title for guests to read. The Elizabeth and Darcy room is decked out in the style of Pride and Prejudice's Regency period with a king-sized bed and clawfoot bath.
Pictured above is the Eve and Roarke room from the In Death series written by Roberts under the pseudonym J.D. Robb. Roberts has also written a best-selling trilogy based around the inn.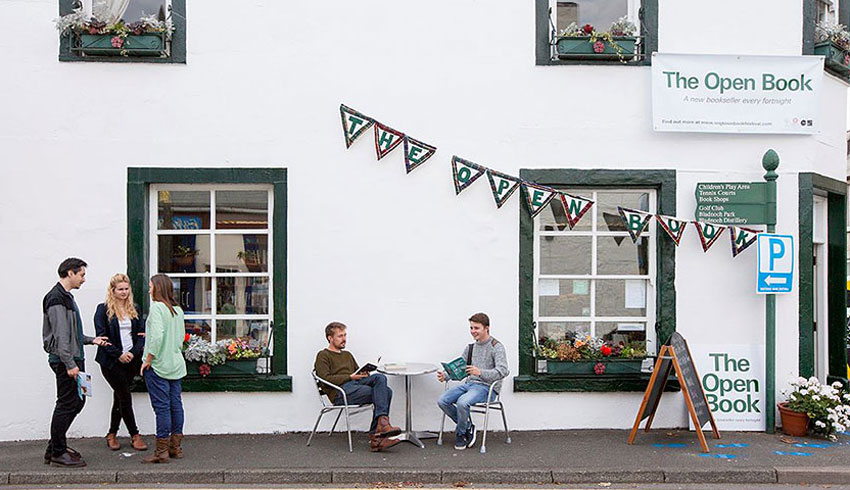 The Open Book, Wigtown, Scotland
If you have ever fantasised about running a bookstore (that's probably anyone who watched Meg Ryan in You've Got Mail), make haste to Scotland where you can partake in a "shelf-catering" working holiday.
In Wigtown, proclaimed as a national book town, The Open Book is a bookshop with an apartment above, so you can try out being a bookseller during your stay – with help from locals – and blog about your experiences.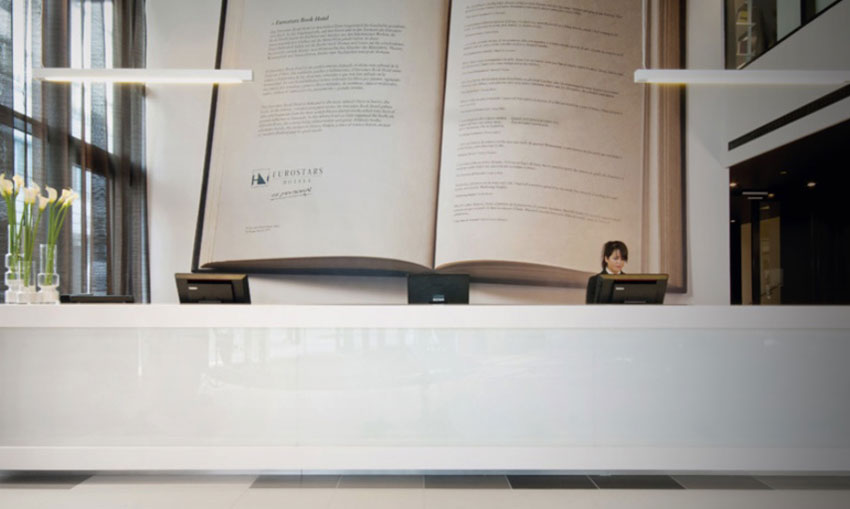 Eurostars Book Hotel, Munich, Germany
With a facade designed to represent pages, a giant book installation behind the front desk, literary quotes on the ceiling above the bedheads, and each floor dedicated to a literary genre, this hotel may appeal to book lovers looking for a base in central Munich.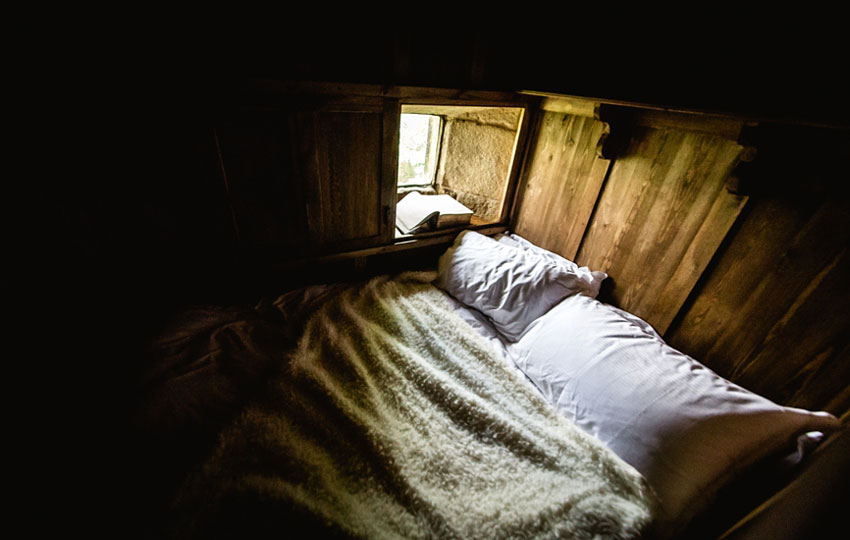 Ponden Hall, Haworth, England
A stay at this B&B is a must for anyone touring Bronte country. Located in the Yorkshire countryside, Ponden Hall was visited by the Bronte sisters and Emily is believed to have used its extensive library.
Pictured above is the Earnshaw room where the ghost of Cathy rapped on the window in Wuthering Heights. The box bed is built to the specifications of the bed that narrator Mr Lockwood slept in.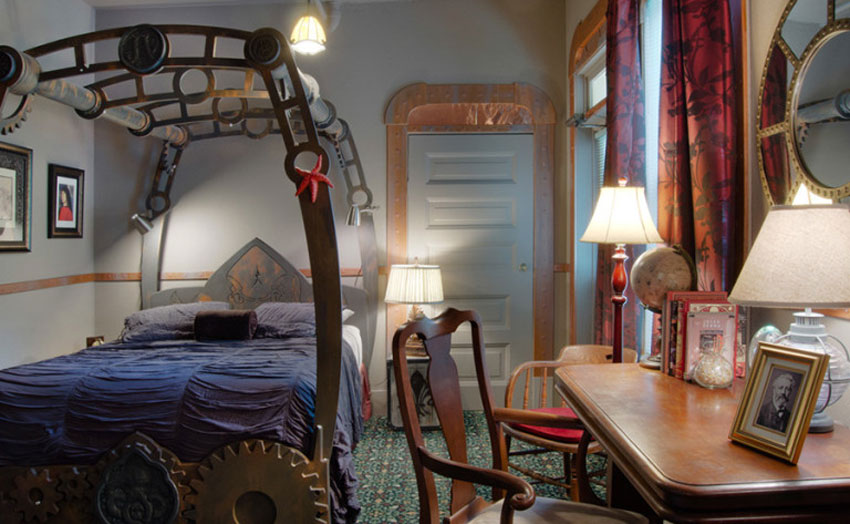 Sylvia Beach Hotel, Newport, USA
At this Oregon hotel, named after an American bookseller and publisher, each room is inspired by an author, including Jane Austen, Agatha Christie, Virginia Woolf, Mark Twain and J. K. Rowling.
Pictured above is the Jules Verne room, honouring the writer of Twenty Thousand Leagues Under the Sea. With no wi-fi, it's a place to unplug and relax with a book in the library overlooking the ocean.
Book and Bed, Tokyo, Japan
My daughter has her sights set on staying in this Japanese hostel, which has sleeping nooks hidden away behind the bookshelves. At this "accommodation bookshop" which has room for 30 guests, you can opt for overnight or day­time stays.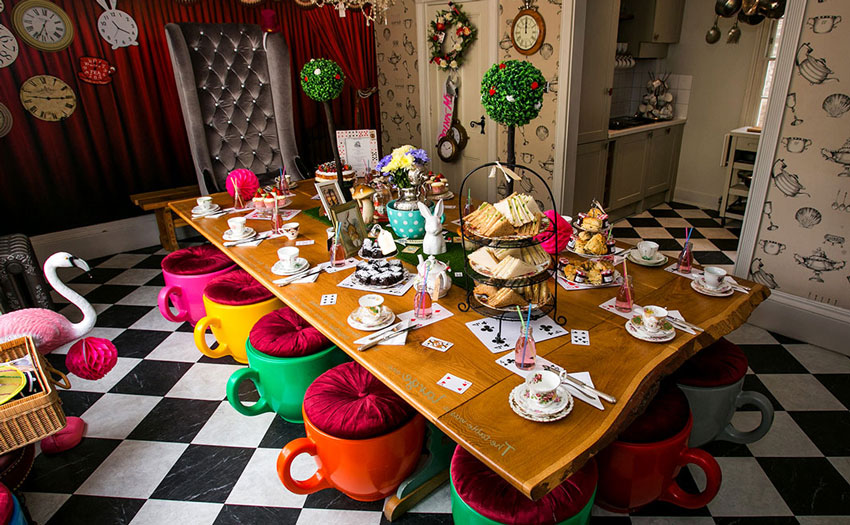 Wonderland House, Brighton, England
Paying homage to Lewis Carroll's Alice in Wonderland, this six-bedroom Regency house by the Brighton seafront can sleep up to 24 people. You can stay in a variety of themed rooms, including the Queen of Hearts with its playing cards bunkbed and of course Alice's room with a wall of looking glasses.
Pictured above is the heart of the home – the Madhatter Banqueting Room with its teacup chairs, chequerboard floor and vintage crockery.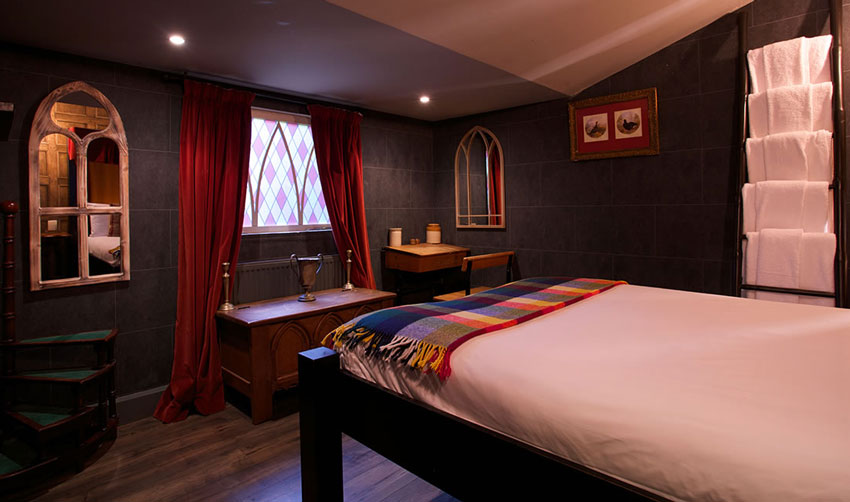 Georgian House, London, England
If the world of Harry Potter and Hogwarts is more your thing, you can stay in the Wizard or Enchanted Chambers at this 19th century London hotel. Concealed behind a bookcase door, the gothic rooms have a four-poster bed, stained-glass windows, stone walls and archways.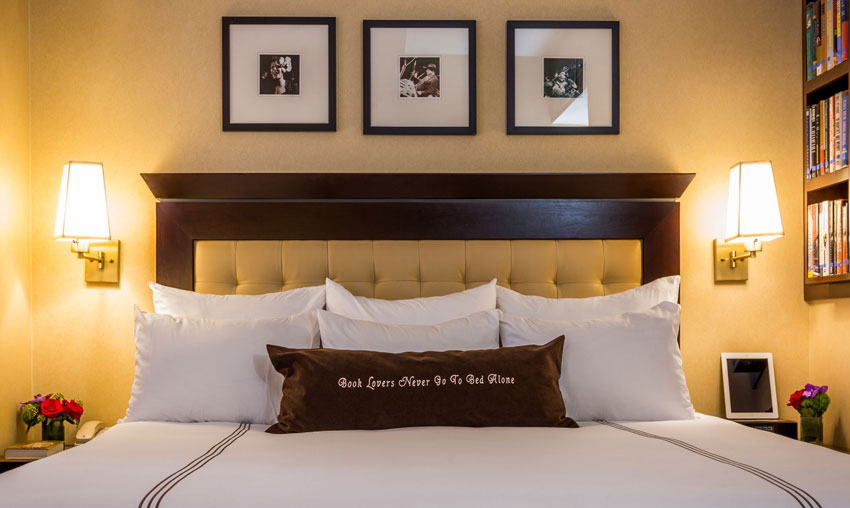 Library Hotel, New York, USA
With a collection of more than 6000 books and its 10 guestroom floors honouring a category of the Dewey Decimal System, the Library Hotel is a place to check out in New York.
Rooms are decorated to reflect topics within these categories, such as astrology, dinosaurs, fairytales, photography, philosophy and erotic literature. And you can enjoy literary-themed drinks when the rooftop terrace transforms into Bookmarks Lounge at night.
The Radisson Hotel Sonya, St Petersburg, Russia
Named after the heroine, this Russian hotel's interior design was inspired by Fyodor Dostoyevsky's classic novel, Crime and Punishment.
It has Bohemian styling and literary motifs throughout. The carpet bears quotes from the book, the desks duplicate the author's own writing table and the suites are named Ego and Rebirth to tie in with the book's themes.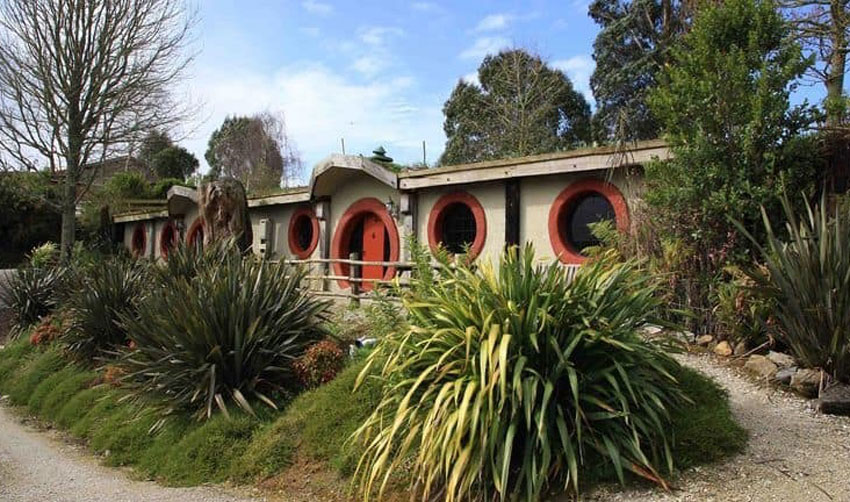 Woodlyn Park, Waitomo, New Zealand
Near the Waitomo Glow Worm Cave, you can live like a hobbit at this motel inspired by J.R.R. Tolkien's Lord of the Rings.
With circular windows and built beneath a hill, each of the two hobbit units are self-contained and can sleep up to six people. If you hear noises on the roof, that'll probably be animals grazing around.