Thanks to all those lovely people who have taken the time to post a review of Don't Mention the Rock Star online. Your feedback is most appreciated. Free hugs all round!
A Spoonful of Happy Endings
'The basic storyline of Don't Mention the Rock Star is quite a classic one within the world of chick lit, but the author has definitely managed to make it her own and turn it into a thoroughly enjoyable read. The novel has some well-drawn and easily loveable characters at its core. I immediately warmed to Kellie and Andy was unlike any other male hero I've come across before; I loved how unique and funny he was … But most of all, I just really enjoyed the author's writing style. This was such an entertaining and comfortable read; I honestly loved it.'
Lisa's Book Blog
'I thought I knew where the story was going, only for it to veer in a different and unexpected direction again … I was gripped from early on, I couldn't put it down! A fabulous debut novel.'

'I am practically speechless after just finishing this book. It was amazing. It is certainly on my list of favorites now. I have always had a soft spot for stories where the character's first love comes back, and they need to figure out if what they had should stay in the past or if they are meant to be together because the timing is right this time around. And Bree Darcy took that concept and created the perfect story in my opinion … With an unpredictable plot, unforgettable characters, a love story that may go down as one of your favorites, Don't Mention the Rock Star will have you laughing at times and crying during some scenes, but ultimately, it will leave you smiling from ear to ear. Bree Darcy is definitely an author to watch out for.'
Chicklit Club
'Kellie and Andy are both very loveable characters, and their connection is so evident that it is hard not to root for them as a couple, in spite of the circumstances. The author has structured the novel in such a way that the readers get to see their relationship develop from its early stages to present day, and there are plenty of twists to keep things interesting. This is a great debut for Bree Darcy and I look forward to the next one.'
Novelicious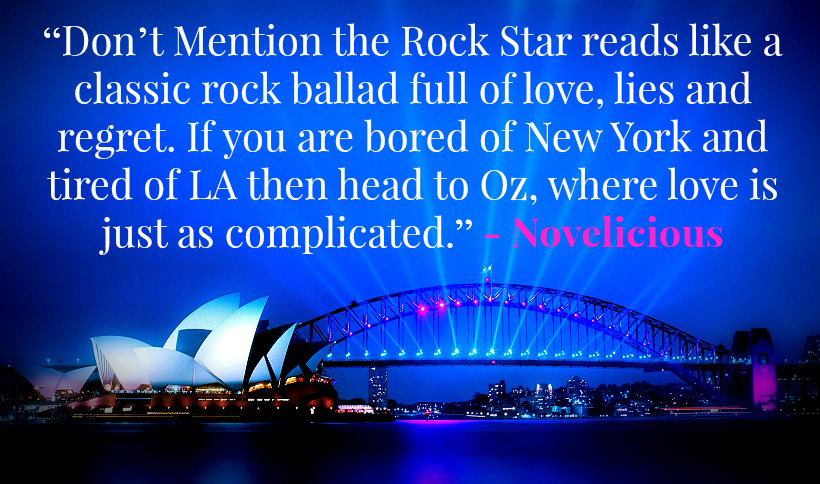 Chick Lit Plus
'This book was really interesting because it discusses the question of can we ever forget our first love, and the added twist in here is that Kellie's first love went on to become a successful rock star – and now he's back on the scene … Definitely thought-provoking – give it a read!'
On My Bookshelf
'The characters were brilliant, very colourful and vivid, with lives of their own, and just popping out of the pages, feeling very realistic. I for once couldn't stay indifferent and was either cheering them on or booing them … I liked the short and snappy chapters and the writing style was totally my cup of tea: witty, clever, sharp as a knife, the dialogues were catchy and felt so real … It was in fact one incredible debut novel.'
Karma For Life Chick
'What can I say but I absolutely loved this book. The characters were awesome and who could not love that couple or root for them to give it a go! Totally recommend!'
Devilishly Delicious Book Reviews
'It had all the ingredients that make a book irresistible to me …. love, romance, secrets, and a second chance at love! I loved the banter and friendship between Kellie and Andy.'
Leah Loves
'Kellie was actually one of the most enjoyable heroines I've read in a while, ditto Andy as the hero. Sigh. Bree Darcy has written a very solid, very readable, very compelling debut novel and I look forward to her next read with great interest!'
Writer's Corner
Every good romance must have a happily ever after. The story was captivating. The characters, especially Kellie's best friend Nikki and her son Ryan, appealed to me. Learning about day to day living in Australia was an added bonus.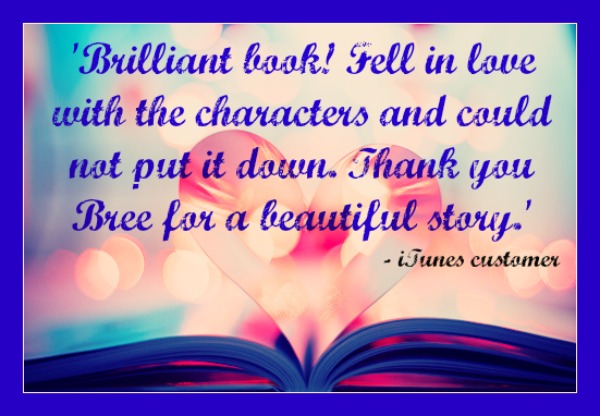 When the title first went up on Goodreads, I had to laugh at the ad it threw up. Nickelback. One of my least favourite bands in the world!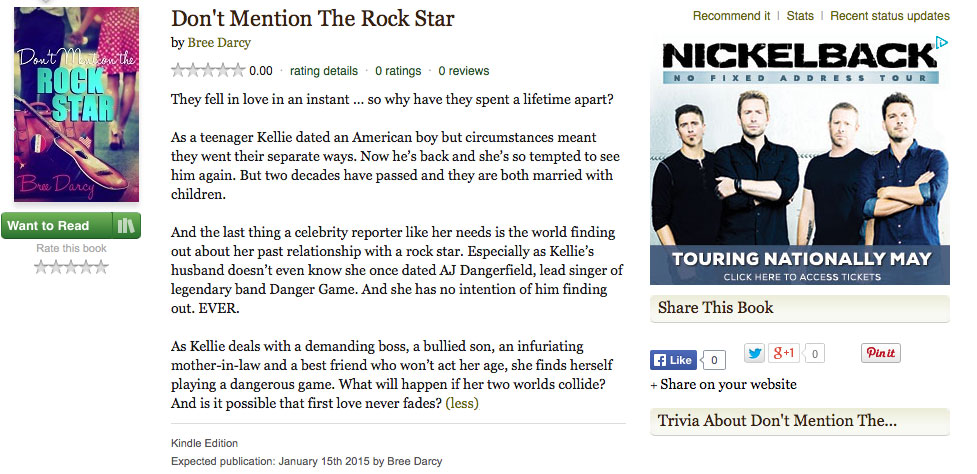 I'll admit being on Goodreads is a scary prospect. That platform has never appealed to me as a book reviewer even though my daughter loves it. She says it's the best way to keep track of the books you've read and the books you want to read. Plus she follows the recommendations of many of her Goodreads friends.
Now as an author, I guess it makes sense to have your title out there for readers to comment on. But it comes with a sense of trepidation too because you've heard the horror stories – of people rating a book one star without even seeing it; those who use shelves called author-is-a-jerk and i'd-rather-die; the war of words that sometimes erupts between authors and reviewers. Goodreads has adjusted many of its guidelines over the past year or so – and hopefully these changes will help alleviate many of the problems.
For now I'll heed the wise words uttered by a fellow writer (unfortunately I can't remember who it was): Authors need to remember that Goodreads is a place for readers. It is a community for them to discuss books – and sometimes things can get heated. So, as an author, if you can't handle the heat, STAY AWAY.
Post-publication update: Why I love Goodreads reviewers
Liz, from Manchester: 'A thumping good read. I couldn't put the book down until the blinking battery ran out on my kindle, without that incident it would've been a read in one sitting . .. I was bewitched by both Kellie and Andy from the start, the way their relationship changed over the years was compelling. The story had so many layers, twists and turns I stopped trying to guess what was going to happen next.'
Give Me Books: 'Oh baby, I just read the mother of all love triangles! This one was meaty and juicy and full of everything I love about this genre! … Add in some drama, a sprinkle of old feelings and a whole heap of sexual tension and, ladies and gentlemen, we have ourselves a love triangle of truly epic proportions! I must say I'm extremely impressed that this is a debut for Bree Darcy. The story is so well written and had me devouring it in no time.'